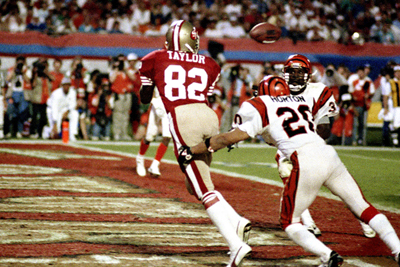 But what were the most iconic touchdowns in Super Bowl history?
Tackling this task, pun intended, is no easy one.  I mean, there's a plethora of plays that we would have to comb through and pick ten out of hundreds.  But we're up to that task and the selection process was a nice nostalgic trip down memory lane. 
With that said, we used some key factors in determining why some touchdowns ranked higher than others, and why some didn't even make the list altogether.  The number one factor was the importance of the touchdown to the outcome of the game.  Logically, if the touchdown won the game then that would give it a higher ranking. 
We also took into account touchdowns that may have sealed the deal in a game and essentially making a win inevitable. 
Then of course we had to factor in that some touchdowns were just simply spectacular, no matter what impact it had on the game.
So after much going back and forth, we've put together what are the 10 best touchdowns in Super Bowl history.  Let the debate begin, even though we feel you'll agree with a majority of our list.
10) Super Bowl XIII – Lynn Swann's 18 yard leaping touchdown
In one of the most action packed Super Bowls ever, Lynn Swann helped the Pittsburgh Steelers secure their third Super Bowl championship with an air defying catch that was symbolic of his uncanny ability to make the difficult look easy (who can forget his acrobatic catch in Super Bowl X).  The Steelers would go on to beat the Dallas Cowboys 35-31 and solidify themselves as the team of the 1970's.
9) Super Bowl XLIV – Tracy Porter's Pick 6
The New Orleans Saints have long been a team that was synonymous with futility and failure.  The team's history was filled with mediocrity and it was almost unheard of to think of them as ever being champions.  That all changed during the 2009 season when they reached the Super Bowl for the first time in the franchise's history and faced the Peyton Manning led Indianapolis Colts.
With Manning leading the Colts on a last minute potential game tying drive, Tracy Porter came up with arguably the greatest interception in Super Bowl history (I'm sure Malcom Butler and Patriot's fans would disagree), and scored a game sealing touchdown that would give the Saints their first ever championship. 
8) Super Bowl XLIII – James Harrison's 100 yard marathon Pick 6
In what turned out to be one of the wildest Super Bowls ever, the storied Pittsburgh Steelers faced off against the surprising Arizona Cardinals in a game for the ages.  Right before halftime the Steelers were hanging on to a three point lead with the Cardinals threatening to score a momentum shifting touchdown. 
James Harrison picked off Kurt Warner at the goal line and rumbled 100 yards down the sideline for a chaotic touchdown that would ultimately play a huge part in the outcome of this game.
7) Super Bowl XVIII – Marcus Allen's epic 74 yard gallop
In route to securing the then Los Angeles Raider's third Super Bowl championship, Marcus Allen capped off an MVP performance with a 74 yard run that is nothing short of a beauty. 
With defenders in his face and surrounding him, Marcus Allen reverses field and turns on the jets as he makes his defenders look like they're running in quick sand as he burns pass them for the icing on the cake in a Raiders 38-9 demolishing of the Washington Redskins. 
6) Super Bowl XVII – John Riggins trucking a defender on 4th and 1
John Riggins delivered a crucial touchdown to help the Redskins win their first ever Super Bowl championship; and in the process completely annihilates a would-be tackler.  Can we say Beast Mode!
Facing 4th and 1 in the 4th quarter and trailing the Miami Dolphins, Riggins takes a carry 43 yards to the house and earns himself Super Bowl MVP honors along with a Super Bowl ring. 
5) Super Bowl LI – James White caps off miraculous comeback
There are comebacks, and then there are COMEBACKS.  And in Super Bowl LI, the New England Patriots had the mother of all comebacks as they rallied from a 28-3 3rd quarter deficit and shocked the Atlanta Falcons to bring home the franchise's 5th Lombardi trophy. 
James White had himself one hell of a game as he scored three touchdowns, including the game winner in the first ever Super Bowl to go into overtime.  
4) Super Bowl XXXIV – Isaac Bruce delivers for The Greatest Show on Turf
The 1999 St. Louis Rams essentially came out of nowhere to become one of the greatest offenses ever; as well as having one of the coolest nicknames ever.  They set numerous records and set a new standard for what's considered a High Powered Offense.
They had suddenly lost control of a 16 point 3rd quarter lead and were reeling from a massive comeback attempt by the Tennessee Titans who had tied the game.  With two minutes to go, Kurt Warner connected with Isaac Bruce on a 73 yard bomb that had put the Rams ahead for good.  Add to that a game saving tackle from linebacker Mike Jones, the Rams were victorious in their first ever Super Bowl. 
3) Super Bowl XXIII – Montana to Ri…..John Taylor??
The San Francisco 49ers of the 1980's are considered to be one of the greatest dynasties in NFL history.  They revolutionized the game with their West Coast offense and reeled off four Super Bowl championships making them the team of the 80's.  Of their four championships, none were more exciting than their victory over the Cincinnati Bengals in Super Bowl XXIII.
Joe Montana solidified his legendary status by orchestrating what may be the greatest drive ever in the NFL.  With a little over three minutes remaining, and having to go 92 yards, Montana seamlessly lead the 49ers downfield and found not Jerry Rice (who had shredded the Bengals for 11 catches and 215 yards), but John Taylor for a 10 yard strike that secured Lombardi trophy number three. 
2) Super Bowl XLII – Plaxico Burress snatches perfection away from the Patriots
Super Bowl XLII was supposed to be the coronation of the 2007 New England Patriots being crowned the greatest team of all-time.  They had breezed through the regular and post season, and were just one win away from joining the 1972 Miami Dolphins as the only teams to go undefeated during an entire season.
But their opponents, the New York Giants, had other plans in mind and pulled off one of the biggest upsets in history.  After hitting David Tyree for the famous "Helmet Catch", Eli Manning finds Plaxico Burress for a game winning 13 yard touchdown that ended the Patriots perfection hopes. 
1) Super Bowl XLIII – Santonio Holmes "Tippy-Toe" touchdown grab
Having two entries in the top 10, Super Bowl XLIII was without question a classic game with a classic ending. 
After an amazing 64 yard touchdown reception by Larry Fitzgerald to put the Cardinals up with just over two minutes to go, Ben Roethlisberger marched the Steelers down the field and hits a stretched-out Santonio Holmes with a perfectly placed pass that seals the game and gives the city of Pittsburgh its sixth Lombardi trophy.