The offseason was unprecedented due to the number of A list superstars who moved to new teams via Free Agency or trades.  The shift in star power has propelled some teams to championship contention that was not foreseen.  What many of us thought would be a cake walk for the Golden State Warriors to win back-to-back championships, has now turned into them having to face some serious competition if they want to hoist the Larry O'Brien trophy in June.
But there are plenty of storylines that's going to make this season very intriguing.  So buckle up because this is going to be one hell of a ride from here till June.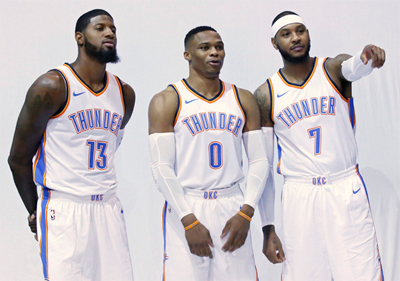 The Super Team Era Continues
Many falsely believe that LeBron James started the Super Team trend, but many superstar players are now following in his footsteps.  Last season saw Kevin Durant join an already established juggernaut in the Golden State Warriors, but this year you can argue that three other Super Teams have formed to be potential roadblocks.
It starts with their nemesis the Cleveland Cavaliers.  Going into the offseason it wasn't expected that Cleveland would be able to make any improvements to a team that got manhandled in the 2017 NBA Finals.  It definitely got shaky for them once Kyrie Irving out of nowhere demanded he be traded from a team that had appeared in three straight Finals. 
Miraculously they were able to ship Kyrie off to the Boston Celtics in exchange for Isaiah Thomas, Jae Crowder, Ante Zizic and a second round pick.  Compile that with the surprise signings of Dwayne Wade, Derrick Rose, and Jeff Green and you can argue that this may be the best Cavaliers team ever.  With the added offensive and defensive punch, the Cavaliers look to be more than ready to push the Warriors to the limit if they meet in the Finals again.
If the Cavaliers had a good offseason, then the Oklahoma City Thunder had a monumental offseason.   After being shockingly spurned by Kevin Durant a year ago, many thought the Thunder was a sinking ship.  Many thought that Russell Westbrook would be next to jump ship, but like a thief in the night the Thunder stole Paul George and Carmelo Anthony away from other suitors and propelled themselves to be the biggest threat to the Thunder in the West.   
What may be the Dark Horse team of all the NBA is the Minnesota Timberwolves.  After a disappointing 2016-2017 season where they did not meet expectations, they made huge improvements to their team by adding two All-Stars in Jimmy Butler and Jeff Teague.  With two young superstars in the making already on their team, Karl-Anthony Towns and Andrew Wiggins, the Timberwolves are poised to be a team that can contend now and in the future.  They have huge potential to be a spoiler in the loaded Western Conference.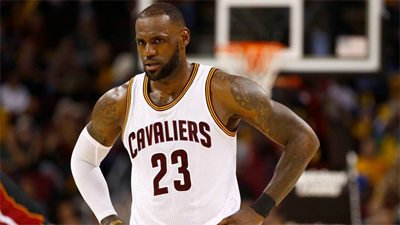 Will LeBron Add To His Legacy?
Thankfully all the Jordan comparisons came to an end once LeBron fell to a 3-5 NBA Finals record, but it is without question that he is a top 5 all-time player hands down.  The ship may have sailed for him to try and catch Jordan, but LeBron can cement himself as possibly the second best player ever if he's able to slay the Warriors once again with Kevin Durant on the team.
He has every accolade that a player can get so adding another MVP award will do little additionally to his already legendary career.  But if LeBron is able to overcome the Warriors, then you can argue that he would have beaten the hardest combination of great teams and Hall of Famers of any player ever.  That may be the only thing he can eclipse Jordan at.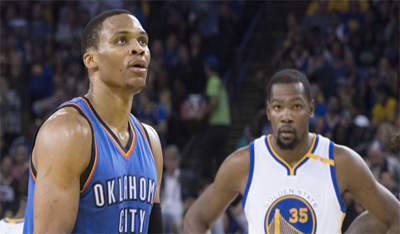 How Big Of a Threat Can the Thunder Be?
It's been a forgone conclusion that the Golden State Warriors would be the team that represents the Western Conference in the Finals for the past three years, but that may be put to the test this year.
The Oklahoma City Thunder had the best acquisitions this offseason by adding Paul George and Carmelo Anthony, and with the reigning MVP in Russell Westbrook they form a potent trio. 
They definitely possess enough offensive firepower to match the Warriors Big Three, so if they were to cross paths in the Western Conference playoffs, we can be in for one of the most entertaining playoff series ever.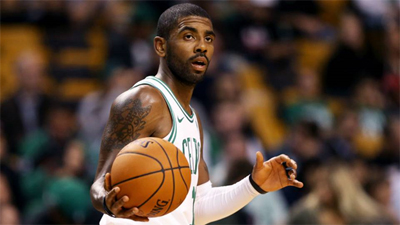 The Cavaliers and Celtics Beef
There is a new rivalry brewing in the league and this one is personal. 
Kyrie has beef with LeBron.  Isaiah Thomas has beef with Celtic's President of Basketball Operations Danny Ainge.  Words have been exchanged, and now we all await how it will play out on the court.
The odds are that these teams will cross paths in the playoffs so NBA fans could be fortunate to see a series that will have as much animosity as the good ole NBA rivalries of the 80's and 90's.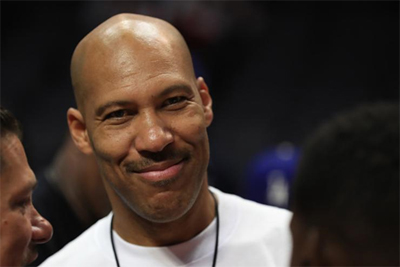 Lonzo (and LaVar) Ball Has Arrived
It's been a while, but there is a lot of excitement in Los Angeles and it definitely is not about the Clippers.  The Lakers have returned to the list of must see basketball and it's for one reason and one reason only, Lonzo Ball.  
Now as good as Lonzo was in college, it's fair to say that his play alone is not what really built the hype for him.  Nope, that honor goes to his loquacious father LaVar Ball. 
LaVar has done a remarkable job of making him and his family household names, but along the way he has pissed a lot of people off. 
So while Lonzo Ball is sure to make his impact on the court, the media is banking on LaVar to make an impact off the court with front page material.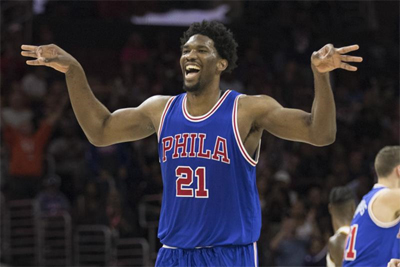 Will Trusting The Process Finally Payoff?
A lot has been made of the Philadelphia 76ers intentionally going through years of mediocrity to position themselves to acquire high end talent via the NBA Draft. 
The team has put together a promising young nucleus featuring Ben Simmons, Dario Saric, Markelle Fultz, and charismatic big man Joel Embiid. 
Having the benefit of playing in a weak Eastern Conference, many feel it is time for the Sixers to take that next step and ascend to playoff contention.
Philadelphia fans have been patient in letting "The Process" play out, but now it's time for some results of The Process.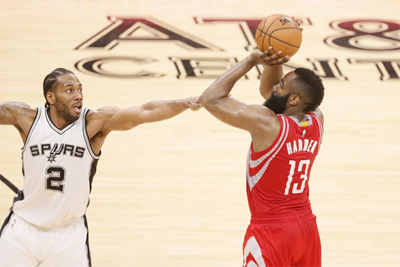 Has the Rest of the West Passed the Spurs?
If there's one thing that you can count on happening besides death and taxes, it's the Spurs getting 50+ wins every season.  Gregg Popovich has created such a fluid system in San Antonio that you can just pencil in the Spurs as a top 3 seed out West every year. 
But with teams like the Thunder, Rockets, and Timberwolves improving significantly, and the current kings of the league residing up in Golden State, you may start to wonder if the Spurs may finally start to fall back from the comforts they've built for themselves the past 20 years.
Kawhi Leonard has solidified himself as a top 3 player, and is without question the best two-way player in the league.  Talented big men LaMarcus Aldridge and Pau Gasol are back, savvy veterans Tony Parker and Manu Ginobili are back, and potent scorer Rudy Gay was picked up in the offseason. 
You can never count out a Gregg Popovich coached team, but they'll be facing some staunch competition in a heavily stacked Western Conference.