Re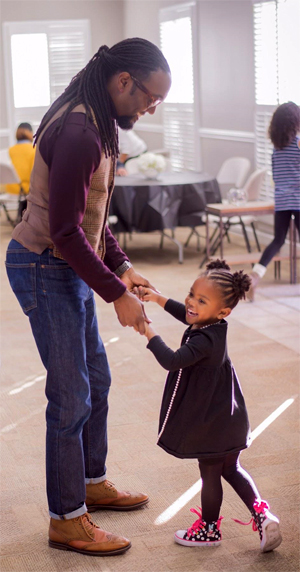 cently, I was helping her write out a couple of words so she could identify the letters. After finishing the words, she was able to tell me each letter and even repeated the word aloud after I read it to her; that's pretty incredible for a kid that'll be three years old in March.
Each day she says a new word, phrase, or remembers something my wife and I taught her previously and we just look at each other and smile. I found myself saying, "I'm proud of you kid, you're doing such a great job," multiple times a day on multiple occasions, because I really am proud of how she's progressed and her level of learning. Then in the midst of my joys of being a parent it hit me, I've never heard those words from my dad and for a second, it hurt...          
To put it in context, I've only seen my biological father four times in my life, and two out of the four, he didn't recognize me. The most recent time of unrecognition was earlier this year, while the previous time was about thirty years ago. At the age of 35, my memories of a man that was never around collided with my memories I'm making daily with my daughter and it affected me to my core; hence the reason for this post.
True, I am the fashion and style guy who uplifts, inspires, and writes about all things fashion, but underneath the Saks Fifth Avenue shoes, Hugo Boss dress shirts and tailored Samuelsohn suits, lies a man, a son, and a father with real issues that have to be worked through daily. I've been told I'm a great father and maybe it's because subconsciously, I overcompensate for what I lacked growing up. Maybe it's because that's just who I am, but I believe it's because there's someone out there reading this and perhaps it's freeing you to move on. See what I left out was that the most recent visit was orchestrated by me because I'd lived with the pain of an absentee father long enough. After hearing a sermon on Easter weekend earlier this year, it prompted me to take the bold step to reconcile with my dad.
Hopefully this message is freeing you to forgive and freeing you to be the man you're destined to be no matter what challenges you encounter. Yes, now is the time to forgive and channel that hurt and anger into your loved ones in a positive way. What's done is done, the past you can't erase, but the future you can write.
So if nothing else today, know that I'm proud of you and the strides you're making to be the best man you can be. In the words of the Most Valuable Motivator, James Edwards, "Keep pushing. Stay the course. Finish the race. Get the job done!
Ciao,
Ryan Jor El
IG: @FashionConnoisseur